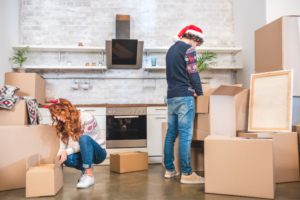 Moving is always a challenge, but it can become a little more difficult when dealing with winter weather conditions. If cold and wet weather is in the forecast for your upcoming move, don't panic – you might have to bundle up a little more, but you can still execute a stress-free and successful move while keeping all of your things safe. This article will present some basic tips for dealing with winter conditions during a move.
Steele & Vaughn is a trusted long distance moving company that is up to any challenge Mother Nature might have in mind. Among the leading movers in Greensboro, NC, Steele & Vaughn can be trusted to treat your things with the respect they deserve. Get in touch today to learn more or to get a quote on your upcoming move.
The Right Supplies
You don't want to be scrambling at the last minute to track down the supplies you need to get through this move successfully. Instead, you'll want to have everything you need on hand and ready to go when the day arrives. That includes various things that can help you deal with adverse weather conditions, such as the following –
Salt or sand. If outdoor surfaces are a bit icy on the day you plan to move, having a couple of bags of sand or salt available will help make those surfaces easier to navigate.
Floor coverings. Moving means coming in and out of a house over and over again, and your shoes may be covered with snow (or with the salt/sand we mentioned above). So, have a roll of plastic that can be used to cover the floor in the house, along with some mats to place at the doors. Also, it's a good idea to move as many things into the garage for staging as possible before you take them into the house with clean feet.
The right clothes. Dressing in layers is the best approach for a winter move, since the weather will be cold but you'll be working hard physically. With layers, you can easily add or subtract clothing as you get warm and then cold again.
Watch the Weather
You can only trust a weather forecast roughly a week in advance, and even then, you need to watch for any changes in those predictions. As the day of the move closes in, pay attention to the weather forecast and consider backup plans, if necessary. For instance, if your moving route goes through an area that is expected to have bad weather, look for other routes that could get you safely to the destination. In a worst-case scenario, you might need to push the move to another day if a storm comes in and makes it unsafe to go ahead with your plan.
Working with a proven mover like Steele & Vaughn will go a long way toward making this winter move a smooth one. Reach out today to learn more about scheduling their services and you can ask any questions you may have about planning this move. Keep in mind, the Steele & Vaughn team has moved thousands of families successfully in all types of weather conditions; so no matter what Mother Nature has in store, Steele & Vaughn can get you through it.
https://www.steeleandvaughn.com/wp-content/uploads/2017/01/logo-300x111.png
0
0
The Moving Team
https://www.steeleandvaughn.com/wp-content/uploads/2017/01/logo-300x111.png
The Moving Team
2022-12-30 14:06:02
2022-12-30 15:39:25
Tips for Moving in Winter